A surprisingly effective, heart warming story of a young man finding himself through the music of Bruce Springsteen. Blinded by the Light is a corny feel good flick. There is something about it however that just rings right. Whether it's one, two or all of the combined elements, this film might surprise you with how much you enjoy it.
Directing what is most likely the best picture of her career, Gurinda Chadha helms this year's uplifting British, musical, comedy, drama with Blinded by the Light. Full of heart in much the same way Wild Rose (Tom Harper, 2018) is from last year, Chadha's latest release tells the story of a young man who finds himself, his creativity and his muse in the music of Bruce Springsteen. The film engages with multiple music film tropes of the 1980's (the decade in which the film is also set) drawing inspiration from the era of Footloose (Herbert Ross, 1984) and Flashdance (Adrian Lyne, 1983) with extended dance sequences and heavy use of hits as a way of conveying the film's central themes. Modernising this kind of tale for a current audience whilst touching on the political issues in a Thatcher Britain and presenting them in a way that should ring true with the political issues of  today (particularly in Britain), Blinded by the Light isn't just the feel good film of the year, it is actually a very impressive undertaking.
Javed Khan (portrayed by Viveik Kalra) is a young man in the large town of Luton in the South East of England starting his A-Levels. Living with his Father, Mother and two sisters, Javed dreams of being a professional writer one day, spending his free time jotting down poetry and coming up with lyrics for his best friend Matt's band. Unknown to his Father, who wishes for Javed to study business orientated subjects, Javed takes a course in English Literature to expand his writing prowess and knowledge. His teacher Ms. Clay (portrayed by Hayley Atwell) encourages him to share his poetry with the world even if Javed himself doesn't believe his work to be any good. Struggling to make friends, the only other South Asian student at the college, Roops, introduces himself to Javed and shares with him the music of Bruce Springsteen. Javed is immediately inspired by Springsteen's lyrics and embarks on a journey of self discovery over the course of the school year.
The plot, whilst pretty standard for this kind of film, is very engaging and moves along at a nice pace. Much of the beats are simply there to build up to the next moment a Springsteen song can play to sum up the main character's emotions towards the current situation but with that said, you barely notice. Javed's story is incredibly relatable to any one who's ever felt like an outsider in their world, desperate to leave it. It's not a story we've never seen before but it is one that's delivered with a lot of heart.
Much of that heart comes from the performances and Chadha once again proves herself as a wonderful actor's director. The lines are super cheesy sometimes but the genuine naivety the actors bring to their characters allows them to pull it off. Several times throughout the film, Javed will just start reciting Springsteen lyrics as though they are gospel. One might usually find this grating and cringe-worthy but the sincerity of Kalra's performance, undoubtedly crafted by Chadha's direction, brings an emotional weight to them that is very hard to resist.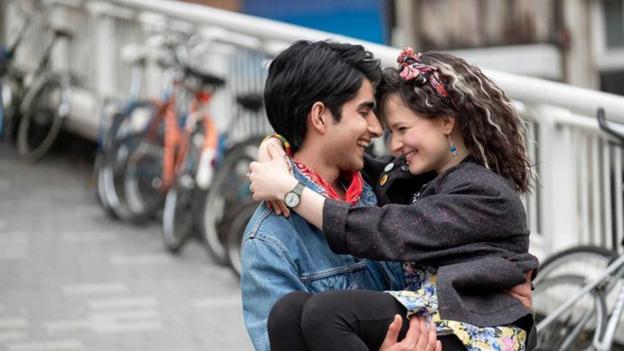 The same can not be said unfortunately for the film's visual style. Ben Smithard's cinematography ranges from mediocre to mildly interesting throughout, which works for something like The Trip (Michael Winterbottom, 2010), a meandering dialogue piece, but for something as over the top and passion fuelled as Blinded by the Light, it comes off as a bit of a waste. There are a few standout visual moments without a doubt and some great shots sprinkled in but it lacks a consistency that would give it its own identity. The editing on the other hand is very tight and keeps everything moving at a solid pace, keeping the plot from becoming too boring, as it does take place over the length of an academic year in Britain. Barring one scene in particular (you'll know it when you see it) which goes on for way too long and repeats shots to the point of near ridiculousness, the editing manages to keep the film and its plot engaging throughout the two hour run time.
Modern cinema today does seem to be a wash of looking back on what was great and reforming it for a modern audience. One can say that's how cinema has always been but it certainly seems to be particularly prevalent over the last three years or so. Blinded by the Light is a throwback to the coming of age music films that were incredibly popular in the 1980's, and just about lasted into the early 1990's before it became incredibly uncool to be happy or fulfilled. It's retelling of a very particular story that we haven't seen in three decades (give or take) and it is a welcome one. It shows a moving away from the gritty reboots of the 2000's and early 2010's and a resurgence of happy and bright stories that were so popular nearly 40 years ago. It's a welcome treat and something I hope continues into the new 20's. We've had enough of sad heroes being grumpy and moody all the time, and Blinded by the Light surprised me with how welcoming I was to its cheesiness.
That said however, if you don't like Springsteen you won't like this film. Blinded by the Light oozes Springsteen's persona and message through his songs. The every-man's hero who wrote for the people, no matter who they were or where they were from. I would never have called myself a massive Springsteen fan but Blinded by the Light won me over. Whether that's through good directing, stellar performances, or just hitting me in the right way at the right time, I found a lot to enjoy in this film, and if you let it, I think you will too.
Written by Alfie Smith
All images courtesy of Warner Bros. Pictures.